Since 1991, Hubble Telescope orbiting Earth 350 miles in space, traveling at 17,000 mph, photographing far, far distant ancient light and faint radio waves from planets, stars and galaxies up to hundreds of trillions of miles away. This the NASA/Official story.
Backstory
Every single story and picture from space has always come from one source since space flight was began: NASA.
NASA was founded in 1958 when SS Nazi Werhner Von Braun was selected to head the Saturn rocket program for all space flights. Previous to his running NASA's rocket program, he headed the V-2 (Vengeance of Destruction) rocket program for Hitler during WWII.
Von Braun, as well as his chief rocket engineer, Arthur Rudolph used concentration camp slave labor to build their rockets that rained down on Europe killing tens of thousands of U.S. allies.
Faced with shortages of labor, Arthur Rudolph, the chief V–2 production engineer, in a memo of April 12, 1943, recommended that the missile program at Peenemünde adopt the exploitation of SS camp labor like that he saw at an aircraft factory.

Despite the complicity of some engineers, the United States did not include the engineers in the 1947 Nordhausen trial or any other war crimes trials. As later US citizens, von Braun and Rudolph later earned awards for work on the Saturn V launch vehicle that took men to the moon.
This sets the background for the launch of the Hubble Deep Space Telescope on April 24, 1990 and after fixing an alleged flawed mirror, has said by NASA to have  "discovered" billions of planets, stars and galaxies.
Hubble's discoveries have transformed the way scientists look at the universe. Its ability to show the universe in unprecedented detail has turned astronomical conjectures into concrete certainties. It has winnowed down the collection of theories about the universe even as it sparked new ones, clarifying the path for future astronomers.

Among its many discoveries, Hubble has revealed the age of the universe to be about 13 to 14 billion years, much more accurate than the old range of anywhere from 10 to 20 billion years. Hubble played a key role in the discovery of dark energy, a mysterious force that causes the expansion of the universe to accelerate.

Hubble has shown scientists galaxies in all stages of evolution, including toddler galaxies that were around when the universe was still young, helping them understand how galaxies form. It found protoplanetary disks, clumps of gas and dust around young stars that likely function as birthing grounds for new planets. It discovered that gamma-ray bursts — strange, incredibly powerful explosions of energy — occur in far-distant galaxies when massive stars collapse. And these are only a handful of its many contributions to astronomy.

The sheer amount of astronomy based on Hubble observations has also helped make it one of history's most important observatories. More than 10,000 scientific articles have been published based on Hubble data.

The policies that govern the telescope have contributed to its incredible productivity. The telescope is an instrument for the entire astronomical community — any astronomer in the world can submit a proposal and request time on the telescope. Teams of experts then select the observations to be performed. Once observations are completed, the astronomers have a year to pursue their work before the data is released to the entire scientific community. Because everyone gets to see the information, the observations have given rise to a multitude of findings — many in areas that would not have been predicted by the telescope's original proposals. Hubble's success with these policies has helped spread them throughout the astronomical community, and they are becoming common with other observatories.
Problem with this all, is that it is impossible to achieve the results that NASA claims to achieve because of the simple problem of trying to photograph and record, with extremely sensitive recording equipment,  stars, planets and galaxies trillions of miles away giving off the faintest of radiation to accurately determine the size, shape, heat/cold, orbit and make up of these stars, planets and galaxies  while the Hubble Telescope trucks around Earth's orbit at 5 miles/second or 17,000 miles per hour!
Every 97 minutes, Hubble completes a spin around Earth, moving at the speed of about five miles per second (8 km per second) — fast enough to travel across the United States in about 10 minutes. As it travels, Hubble's mirror captures light and directs it into its several science instruments.
Additionally, there is the atmospheric refraction problem and an error factor of some 2500 miles to deal with:
Hubble orbits in the upper atmosphere at an altitude of approximately 569 kilometres (354 mi) and an inclination of 28.5°. The position along its orbit changes over time in a way that is not accurately predictable. The density of the upper atmosphere varies according to many factors, and this means that Hubble's predicted position for six weeks' time could be in error by up to 4,000 km (2,500 mi).
At this altitude of orbit of 354 miles or 569 kilometers, the temperature reaches over 4,000 degrees Fahrenheit !  What kind of man made machine can even operate at these temperatures that melt even the hardest of metals???
The thermosphere is a region of very high temperature that extends from the top of the mesosphere at around 85 kilometers up to 640 kilometers above the Earth's surface. It is called the thermosphere because temperatures spike to thermal levels
Temperatures are highly dependent on solar activity, and can rise to 2,000 °C (3,630 °F). Radiation causes the atmosphere particles in this layer to become electrically charged (see ionosphere), enabling radio waves to bounce off and be received beyond the horizon. In the exosphere, beginning at 500 to 1,000 kilometres (310 to 620 mi) above the Earth's surface, the atmosphere turns into space.
The highly diluted gas in this layer can reach 2,500 °C (4,530 °F) during the day..  (Source)
****
Astronauts Musgrave and Hoffman install corrective optics during SM1. Careful guys it's 4,000 degrees + out there! 
"Hey, anyone seen any stars??? …oh wait here they are!, whew got scared for a moment."
****
So let's assume that NASA figured out a way to precisely record faint radiation and light emitted from trillions of miles away while operating in 4,000F + temperatures while orbiting around the Earth at 17,000 mph, what kind of super sensitive instruments are they claiming to use here to record all the incredible (as in unbelievable!) images that tell us of a massive universe?
Hubble is a type of telescope known as a Cassegrain reflector. Light hits the telescope's main mirror, or primary mirror. It bounces off the primary mirror and encounters a secondary mirror. The secondary mirror focuses the light through a hole in the center of the primary mirror that leads to the telescope's science instruments.

Hubble's primary mirror is 94.5 inches (2.4 m) in diameter. This mirror is small compared with those of current ground-based telescopes, which can be 400 inches (1,000 cm) and up, but Hubble's location beyond the atmosphere gives it remarkable clarity.

Once the mirror captures the light, Hubble's science instruments work together or individually to provide the observation. Each instrument is designed to examine the universe in a different way.

The Wide Field Camera 3 (WFC3) sees three different kinds of light: near-ultraviolet, visible and near-infrared, though not simultaneously. Its resolution and field of view are much greater than that of Hubble's other instruments. WFC3 is one of Hubble's two newest instruments, and will be used to study dark energy and dark matter, the formation of individual stars and the discovery of extremely remote galaxies previously beyond Hubble's vision.

The Cosmic Origins Spectrograph (COS), Hubble's other new instrument, is a spectrograph that sees exclusively in ultraviolet light. Spectrographs acts something like prisms, separating light from the cosmos into its component colors. This provides a wavelength "fingerprint" of the object being observed, which tells us about its temperature, chemical composition, density, and motion. COS will improve Hubble's ultraviolet sensitivity at least 10 times, and up to 70 times when observing extremely faint objects.

The Advanced Camera for Surveys (ACS) sees visible light, and is designed to study some of the earliest activity in the universe. ACS helps map the distribution of dark matter, detects the most distant objects in the universe, searches for massive planets, and studies the evolution of clusters of galaxies. ACS partially stopped working in 2007 due to an electrical short, but was repaired during Servicing Mission 4 in May 2009.

The Space Telescope Imaging Spectrograph (STIS) is a spectrograph that sees ultraviolet, visible and near-infrared light, and is known for its ability to hunt black holes. While COS works best with small sources of light, such as stars or quasars, STIS can map out larger objects like galaxies. STIS stopped working due to a technical failure on August 3, 2004, but was also repaired during Servicing Mission 4.

The Near Infrared Camera and Multi-Object Spectrometer (NICMOS) is Hubble's heat sensor. Its sensitivity to infrared light — perceived by humans as heat — lets it observe objects hidden by interstellar dust, like stellar birth sites, and gaze into deepest space.

Finally, the Fine Guidance Sensors (FGS) are devices that lock onto "guide stars" and keep Hubble pointed in the right direction. They can be used to precisely measure the distance between stars, and their relative motions.
Additionally, to give you an idea how implausibly they can accurately determine size, shape, heat/cold, orbital speed and make up of planet, stars and galaxies see how the best of ground observatories do it;
The Porto team used a different method to study a familiar exoplanet, 51 Pegasi b, which 20 years ago was the first exoplanet found orbiting a normal star. Researchers employed an instrument called the High Accuracy Radial velocity Planet Searcher (HARPS) attached to a 3.6-meter telescope operated by the European Southern Observatory (ESO) at La Silla in Chile. HARPS is one of astronomy's most successful planet hunters; it works by scrutinizing stars for wobbles caused by the tug of an orbiting exoplanet's gravity. That is how 51 Pegasi b—known as a "hot Jupiter" because of its size and closeness to its star—and hundreds of other exoplanets have been found.

To spot the wobble, researchers using instruments like HARPS build up a reference spectrum for the star—how brightly it shines at each wavelength—as if it is at rest. Using that reference, they then look to see if the observed spectrum shifts over time. If the observed spectrum shifts a bit toward the red end, it means the star is moving away—stretching out its light to longer wavelengths. A shift to the blue end means the star is moving closer—bunching up its light to shorter wavelengths. Repeated observations reveal the size and period of the wobble, and from that astronomers can infer some characteristics of the planet that is causing it—without actually "seeing" the planet itself.
All the while the universe is said to be moving outward from the Big Bang at the speed of light! Right!

We are told sold that the incredible ultra sensitive recording devices of the Hubble Telescope has even discovered galaxies so far away that Man can not even comprehend such distance.
The latest image assembled by images captured by Hubble is the eXtreme Deep Field (XDF). This has allowed astronomers to discover the most distant object UDFj-39546284, an early forming galaxy at over 13.2 billion light years away when the Universe was still developing into the form we see today. (Source)
To calculate just how far away they are claiming, let's do the math.
A light-year is the distance light travels in one year, around 9461 billion kilometres, 5879 billion miles.

5879 billion miles X 13.2 Billion = 77,603,000,000,000,000,000,000,000 miles away!!!
So let's say that the good Nazi's at NASA, or NAZI, have been able to make these incredibly powerful instruments work.
What about all the space debris, cosmic dust, meterorite and micrometeorite debris, solar flares, asteroid and comet trails of ionic dust plus not so small impediments to view so far through the asteroid belt?
Wouldn't all this affect such a super sensitive measurement device measuring 77 billion trillion miles away?  Hmmm.
This is an official NASA "photograph" of Hubble being deployed from Discovery in 1990.
First of all, camera shooting directly into the Sun, in space vacuum shining directly into the camera? Would not the camera have to stop all the way down and render anything in the foreground dark? Second, it looks nothing like a photograph but a painting, a very poor one at that.
So how do they fake it.  EZ PZ. Just sell the lie, keep the money and get a very large pool to film the Great Space Hoax.
"Houston we have a problem, we don't seem to see any stars while we are in a space vacuum so our thrusters are useless, but somehow we are able to work for hours in deep space untethered  to the spacecraft to do repairs on the Hubble while she travels around the Earth at 17,000 mph, while we work in 4,000 F+ temp's outside. No problemo"
About This Official NASA
Image
Astronaut Steven Smith took this picture of fellow crew member Mark Lee during Hubble's second servicing mission in 1997. Lee is preparing to document the day's activities with a shuttle camera. Engineers rely on astronauts' photos to design and build new hardware for Hubble, and other astronauts use them for training. In addition to the hand-held cameras, the shuttle has cameras mounted to it in various locations to capture other footage.
*****
How and Where They Fake It
The Neutral Buoyancy Laboratory (NBL) is an astronaut training facility operated by NASA and located at the Sonny Carter Training Facility, near the Johnson Space Center in Houston, Texas.[2] The NBL consists of a large indoor pool of water,[3] in which astronauts may perform simulated EVA tasks in preparation for upcoming missions. Trainees wear suits designed to provide neutral buoyancy to simulate the microgravity that astronauts would experience during spaceflight.
The diving tank is 202 feet (62 m) in length, 102 feet (31 m) wide, and 40 feet 6 inches (12.34 m) deep, and contains 6.2 million gallons (23.5 million litres) of water.[4][5] The NBL contains full-scale mock-ups of International Space Station (ISS) modules and payloads, as well as visiting vehicles such as the Japan Aerospace Exploration Agency (JAXA) HTV, the European Space Agency ATV, the SpaceX Dragon, and the Orbital Sciences Corporation Cygnus.[4] Previously there was also a mockup of the Space Shuttle payload bay, but since Space Shuttle retirement it has been removed.
(and all convenient for photographing and filming fake space walks and missions. all they need to do is film against a green screen or blacked out pool wall)
First, you must learn how to put on your 127-kilogram (280-pound) spacesuit — it will provide you with the air you need to breathe while you're outside your spacecraft. It will also keep your body at a comfortable temperature even though it may be 200 degrees below zero to 200 degrees above zero outside. (NASA source)

(At 130 miles in space, science claims there is still 90% gravity from Earth, or microgravity, which means the space suits, inside the space shuttle still weigh some 252 pounds! Also, note that NASA says the temperatures are only 200F degrees + or – in space)
"The thin atmosphere offers little thermal insulation, so temperatures can drop quickly at night, and rise quickly due to the sun's radiation during the day." ..with temps varying from – 225 to + 243 every single day and night".."The thin atmosphere offers little thermal insulation, so temperatures can drop quickly at night, and rise quickly due to the sun's radiation during the day. Powerful radiation from sunlight on one side of an object, and shadow on the other will create a large temperature gradient. A "thermal shock" can follow, where different parts of an object thermally expand by different amounts, leading to large potentially failure-inducing strains. The effect of thermal shock is more pronounced in brittle materials such as glass, ceramics or metals below the glass transition temperature (ductile-brittle transition temperature for metals)".(The Lunar Sourcebook (Heiken, Vaniman, & French, 1991

Dave, why haven't we vaporized into white hot piles of meteoric ash?
Because we are in a swimming pool, Ivan. Ah, for a minute there I almost forgot.  (source)
******
Tricks of the Trickery: "space bubbles"
*****
Panties in a Bunch. Climbing Harness' and Support Wires creating "weightlessness"
Ask yourself what in near weightless space would cause such "crotch wrinkle"??
this would!
NASA hoax ISS Actornaut Chris Cassidy accidentaly admits they are filming in the USA BUSTED
(make sure to look at the chest areas to see the outlines of the climbing rig harness')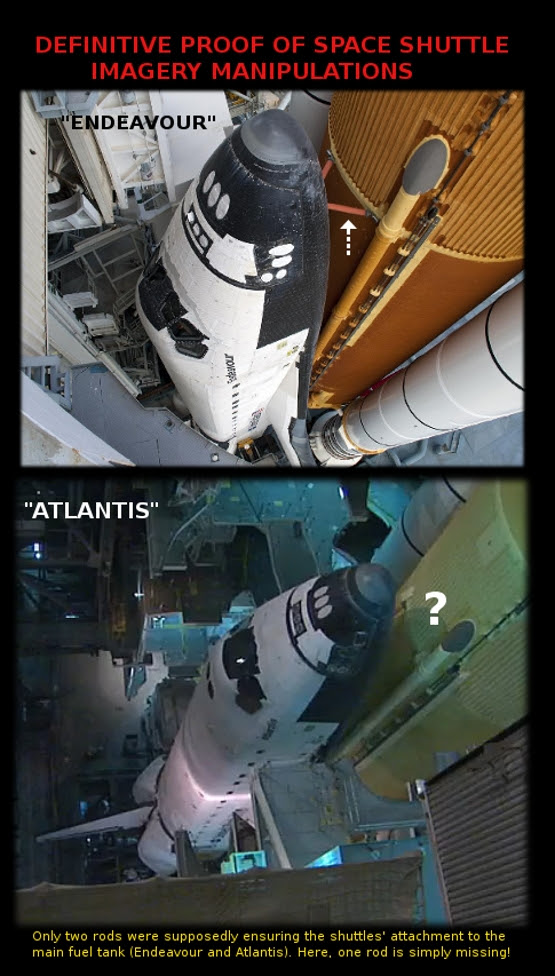 Or more precisely, by THIS lone WONDERBOLT
Quite honestly, this particular – uh – engineering solution to keep the shuttle from detaching itself from the tank during its 10.000+ mph ascent, offensively defies whatever humble notions of mechanics/aerodynamics I may have (correctly or incorrectly) assimilated in the course of my lifetime. The pull forces exerted on that single, lone bolt must be phenomenal; to make matters worse, not only do we have one single bolt 'securing' the front end of the Shuttle – as well as the lives of these astronaughts and the success of all these shuttle launches, it is also a moving part ! (a fact which, notoriously, makes it even more vulnerable to disfunction/breakage – titanium or not titanium
When comparing it to the 'red shot' (admittedly a higher resolution still), it simply doesn't make sense for that rod on the near side to be pretty much invisible – especially since the other rod on the far side is quite visible. . The rods in the 'red' shot are considerably lighter than their background (the darker tank) so there is no reason why one of them should virtually disappear in the 'green shot' only because of some lower resolution issue. There would appear to be a cut (see white arrow) – not that I know why this was made, but I would say the most likely answer to this little mystery is 'sloppy photoshopping'.
*******************************************************
Source reference for the Endeavour shot:
NASA official website
http://www.nasa.gov/mission_pages/shutt … index.html
Source reference for the Atlantis shot:
"Nasa shuttle launch Atlantis high definition 1280×720"
http://www.youtube.com/watch?v=IpBNr-oNT1g&feature=fvst
ONLY the pipe ring is moving here – NOTHING else. And no – no changes in focal length/zoom settings of the 'camera lens' are observed: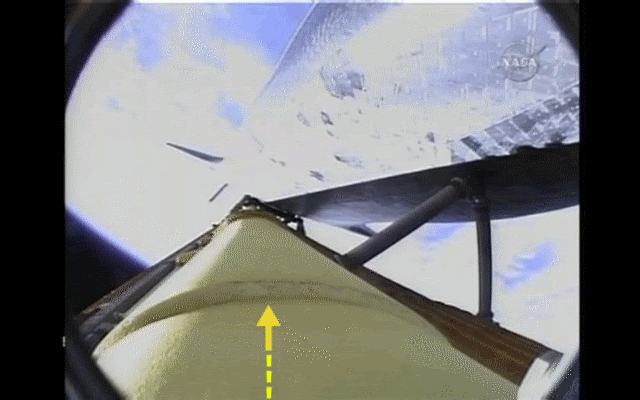 (Tip: just put your cursor over any given area of the picture. Check it out. Note: The two frames are of course, taken from the same shuttle launch video.)