Ever wonder why they named it Ph(F)arma-cology? When the Phoenician phonics sounds the exact same.  Now, one hundred years after the creation of Rockefeller oil into 'ceuticals, into creation of western "medicine" to Industrial food production. Now, the Biggest of Pharma, with the Worst of "food".
"Monsanto, arguably the most loathed GMO company on the face of the earth, has been the subject of heated discussions for decades, especially in recent days as their top-selling product (RoundUp) contains glyphosate, which has been linked to cancer, autism, and respiratory sickness.
Monsanto has lobbied widely and even filed lawsuits to prohibit labeling of GMO products and bury the World Health Organization's report listing glyphosate as a probable carcinogen. If Monsanto joins forces with Bayer (one of the most hated Big Pharma companies in the world), the resulting "marriage made in hell" would be a drug-seed-pesticide company that controls almost 1/3 of the world's seed market and almost ¼ of the pesticide market. Many would argue that this would equate to a monopoly. More on that topic later in the article.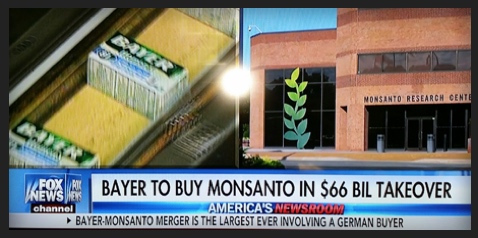 But this would not be the first time Monsanto and Bayer have teamed up. During the Vietnam War, both firms were involved in the development of Agent Orange. And both firms are currently involved in the GMO market today. Speaking of GMOs, I was watching Fox News Channel a couple of days ago and the "expert" being interviewed said that this was necessary in order to feed the world and that GMO foods are the only solution. WRONG!
Apparently said "expert" is unfamiliar with the recent research, specifically the IAASTD Report, which is the most comprehensive report on the future of food and agriculture (sponsored by the World Bank and the UN, written by over 400 scientists and endorsed by 59 countries).
In this report, they did not endorse GMOs as a solution to world hunger. In addition, genetic engineering has not significantly increased U.S. crop yields, according to the USDA and controlled comparative studies. As a matter of fact, many GMOs have lower yields than non-GMO crops. Did I mention that GMO crops have been linked to cancer and have numerous potential health risks?
Let's look at the sordid history of both of these companies…
A Brief History of BAYER
• Founded in Barmen, Germany in 1863 by Friedrich Bayer and his partner, Johann Friedrich Weskott.
• During World War 1, Bayer turned its attention to the manufacture of chemical weapons including chlorine gas.
• In 1925, Bayer, BASF, and Hoechst merged to form the massive German conglomerate Interessengemeinschaft Farben (IG Farben) which was the single biggest donor to Hitler's election campaign.
• IG Farben built the concentration camps at Auschwitz to supply slave labor for the nearby IG Farben plant (also known as IG Auschwitz). Hitler eventually used these same camps in his megalomaniacal attempt to exterminate the Jewish race.
• In 1941, Otto Armbrust, the IG Farben board member responsible for IG Farben's Auschwitz project, told his colleagues, "our new friendship with the SS is a blessing. We have determined all measures integrating the concentration camps to benefit our company."
• A subsidiary of IG Farben manufactured and supplied Zyklon B to the SS. This poisonous cyanide-based pesticide, on which IG Farben held the patent, was used during the Holocaust to annihilate more than 1,000,000 people in the concentration/extermination camps. IG Farben also supplied the SS with the Methanol used to burn the corpses.
• In 1946, the Nuremberg War Crimes Tribunal concluded that without IG Farben the Second World War would simply not have been possible.
• At Nuremberg, Fritz ter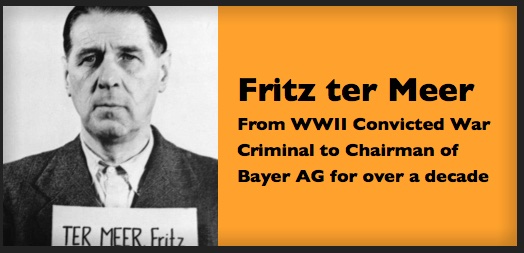 Meer (an executive of IG Farben) was convicted of slavery, mass murder, and crimes against humanity. After serving 5 years in prison, he became Chairman of the Board at Bayer in 1956, a position which he held for almost a decade.
• In 1962, just fifteen years after they were convicted in the Nuremberg War Crimes Tribunal, Bayer, BASF and Hoechst were again the architects of the next major human rights offence when they established the Codex Alimentarius Commission.
• In the mid-1980s, Bayer was one of the companies which sold a product called Factor VIII concentrate to treat hemophilia. Factor VIII turned out to be infected with HIV. After learning that the product was contaminated, in order to save money, Bayer continued selling this infected product to Asia and Latin America even though a safe product was available. Dr. Sidney M. Wolfe, who investigated the scandal, commented, "These are the most incriminating internal pharmaceutical industry documents I have ever seen."
• In the 1990s, the federal government launched an investigation on Bayer's unethical billing practices on Medicaid program and the Department of Justice found Bayer guilty of fraud. Bayer had to pay $14 Million to settle charges of causing inflated Medicaid claims.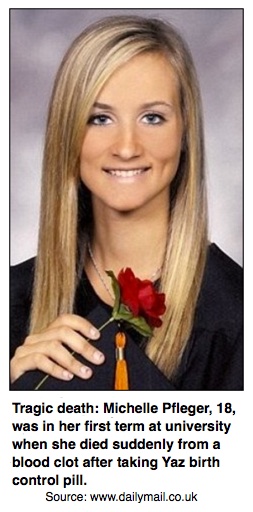 • Yaz (approved by FDA in 2006) and Yasmin (2001) were revolutionary birth control pills that use a synthetic hormone called drospirenone (DSP). Yaz or Yasmin have led to hundreds of deaths in young and healthy women.
• The drug Trasylol was banned in 2006 after it contributed to thousands of deaths in patients every single month for over a decade. After a 2006 study showed widespread deaths associated with Trasylol, it took FDA and Bayer almost two years to take the drug off of the market. Later on it was revealed that Bayer had buried evidence of Trasylol's severe side effects.
• In 2008, the German Coalition against Bayer brought a charge against the Bayer Board of Management, with the public prosecutor in Freiburg accusing Bayer of contributing to the mass death of bees all over the world through its aggressive pesticide marketing. Since then, the bee debacle has only grown worse, with thousands of hives collapsing after poisoning by the pesticide clothianidin, producing a worldwide crisis.
****
(where they will not tell us what is even going in our food. did you know about Bioengineered Nano Foods…?…no one else does)