Misdirection by G. Galilleo?  "What you see, is not what is real"
~ Just Wandering ~
Things to still figure out and understand about how it could be a flat, round Earth:
1) Why The Flat Earth Lie?
2) How the Sun and Moon track overhead in a circle, inward towards the North Pole and outward towards the Southern Antarctic Circle. What sets their outer and inner limits and what makes them move and stay in a defined orbit overhead?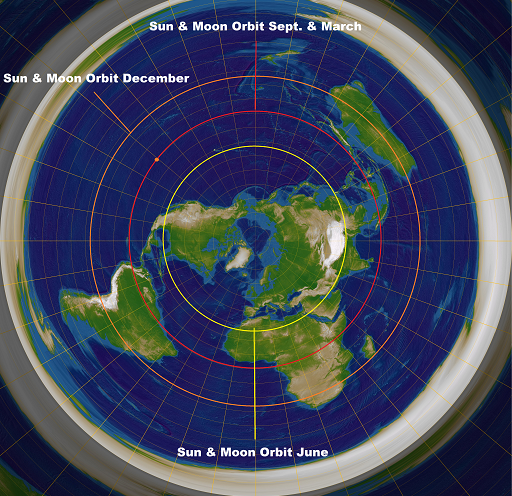 3) What does this mean for Astrology? Does a F.E. invalidate thousands of years of teachings?
4) Seeing a round disc during the eclipse of the Moon by the Earth. (Earth could be a perpendicular disc to the Moon, or there could be a brown star of our own, or the Moon's invisibly causing an eclipse).
5) What possibly could the sky firmament be made of and are those really stars above?
6) What is underneath a Flat Earth?
7) How have so few, for so long, fooled so many?
8) Are their pictures of the ends of the Earth, the Firmament and the underside in the vaults of the Vatican next to the Qui Vie Trusts written on dead human skin from the 14th century?
http://one-evil.org/content/symbols_papal_bull.html
9) What will all the academic astronomers, NASA employees, climatologists, cartographer's, astronots and supporting government due for work when a global Earth is exposed as a hoax?
10) What Causes the Aurora Borealis Lights?
Online answer:
Aurora Borealis
The radiance or light of Earth's second Moon is known as the Aurora Borealis (i.e., the Northern Lights), an array of dancing lights in the sky as if the sun were rising or setting from an unusual direction. This phenomenon is only witnessed in northern regions of the world (e.g., Alaska, Canada, Greenland, Iceland, Norway, Russia, U.S. states which border Canada, etc.). To date, a feasible and believable scientific explanation for the phenomenon has not yet been rendered. Like the Moon of the underworld, Earth's second Moon moves in tandem with the sun. Consequently, when the sun and the second Moon are aligned, the sun's light is refracted off the watery surface of the Moon, producing the beautiful Aurora Borealis across the northern face of the Earth. The Northern Lights only occurs after the sun is near or has passed the northern horizon. In other words, it occurs during the evening and at night in Greenland. Coincidentally, an "aureola" or "aureole" is the radiance of luminous cloud which surrounds a figure in paintings and personages. The aureola appears to be indicative of the clouds which surround Earth's water-covered moon while the halo is in respect to the light which it gives off.
11) Who Would Do This Vast, 500 year Conspiracy
Tagged: flat earth, geocentric